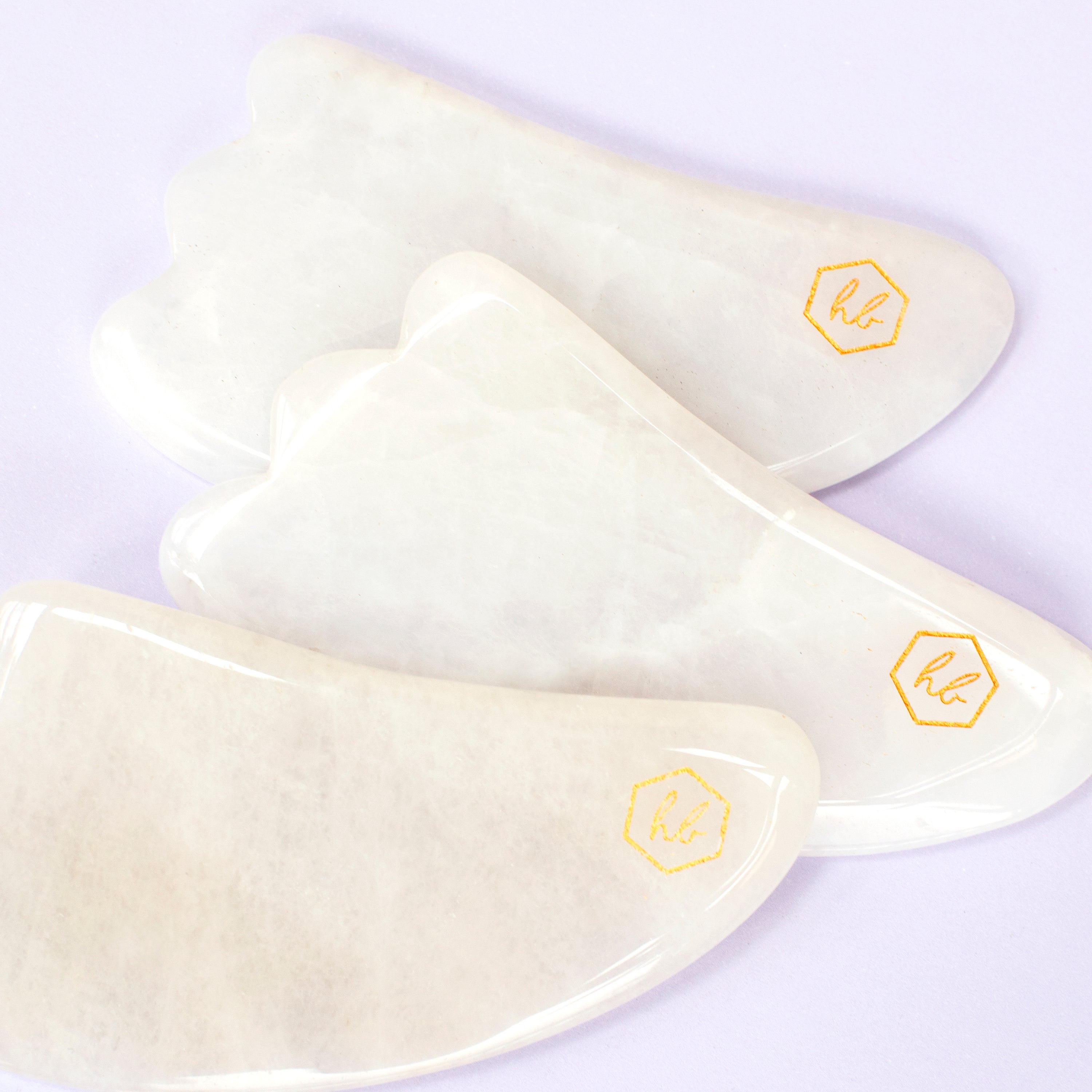 Crystal Gua Sha
$ 28.28
Regular price
$ 33.33
Subscription • Save
Description
Maximize your skincare routine by incorporating this facial tool to massage your face and body. Gua Sha Facial Massage, also known as the "Eastern Face Lift", is an ancient facial massage technique that promotes detoxification and youthful-looking skin. Gua Sha to:


Help reduce signs of aging

Help increase elasticity in the skin

Help improve dark circles and under-eye bags

Promote radiant and even complexion

Our Gua Sha tools are made out of authentic gemstones and crystals, known to provide healing energy.

Pick your vibe:

Jade: unswerving purity and luck

Rose Quartz: unconditional self-love and openness

White Jade: healing harmony and decisiveness

*Colors and texture will vary slightly as each Gua Sha tool is shaped and derived from natural stone.
Who It's For
Gua Sha is perfect for anyone looking to take their skincare routine to the next level. Treat yourself to a spa day anyday, all day everyday!
How To Use
Step 1: Apply ELIXIR facial oil.

Step 2: Use the Gua Sha tool to apply light pressure to the center of your forehead and scrape from the middle of your eyebrows to your hairline.

Step 3: On the middle of your forehead, scrape from the center out to your temples.

Step 4: Use the smaller curved end to scrape from your inner brow bone to the outer brow bone.

Step 5: On your cheek and under eye area, start on the sides of the nose and sweep the tool from the center to the perimeter of your face.

Step 6: Repeat the same motions on the mouth, chin, and jaw areas. Move the tool from the center to the outer parts of your face.

Step 7: Lastly, start on the top of your forehead and scrape down to your temples, down to the sides of your neck, and stop mid-collarbone.

Do about three strokes per section and scrape both sides of the face for a completed facial massage.

Belle Tip:
Use Gua Sha to massage all parts of your body. Form the edges to fit your body and massage out sore muscles or knots! Don't forget to use oil (we recommend ELIXIR) before massaging.
Full Ingredients
Our Gua Sha's are made with authentic, one-of-a-kind crystals or gemstones. The stones are responsibly sourced from countries below and carefully handcrafted in China.

Intentional self-care starts with choosing your vibe from the six different types of stones we offer! And yes, it's completely normal to own more than one.

Sourced ethically from:
- Jade: India
- Rose Quartz: Madagascar
- White Jade: Russia
Crystal Gua Sha
$ 28.28
Regular price
$ 33.33
FAQ's
1. Where are the Gua Sha's sourced?
- Jade: India
- Rose Quartz: Madagascar
- White Jade: Russia
2. How should I store my Gua Sha?
Store your Gua Sha in a cool/dry spot.

3. How do I clean my Gua Sha?
Clean your Gua Sha with warm water and mild soap. You can even use half a pump to a full pump of our Foaming Facial Soap.

Love the amethyst Gua sha
Thank you for the fast delivery. Loving the products!
Crystal Gua Sha
Absolutely insane how amazing this product is! It's definitely helped take my skincare up a hundred levels. The best part is spreading the word and sharing this with my friends and family!
Very Pretty But Arrived Broken
It is very pretty. But it arrived broken. The toner was a nice bonus! I'm really loving the toner. It smells amazing. Reminds me of a body cream my grandmother used. It brings back nice memories when I use it.
Amethyst Gua sha
Absolutely love this product, it's part of my every day routine!!!!
Blown Away
I had an issue with an item I bought and reached out to the company. Iris responded quickly and went above and beyond to make sure everything was resolved. I am still shocked at how sweet and understanding Iris was. I absolutely love my Gua Sha and have been using the foaming facial soap for a week and love how gentle and hydrating it feels. I look forward to trying more products and will forever promote this company. I'd give them 6 stars if I could.
My new favorite thing I use everyday!
I love the shape and feel of this Gua Sha, so thankful y'all sell it! It also has some helpful tips on how to use it which is nice! Thank you!!
Lovely products
I purchased 3 rose quartz Gua Sha and an obsidian jade roller. My initial face roller and Gua Sha shattered while traveling, so this was my second time purchasing from Honeybelle. When I reordered products I ordered for my sisters as well. Within a week of using my new obsidian face roller one end shattered, and one of the rose quartz gua sha I was saving to gift to my sister, still in the packaging arrived shattered but I am just now seeing this because I had not yet opened the package. I consider these products a holy grail so I am heartbroken! Is there any way I can get a refund or exchange the broken items for new ones?
Jade Gua Sha
Awesome product with different stones to choose from. Shipped quickly and great customer service. I would definitely recommend.
It broke :(
I love your guys products so much! But my Gua sha broke within days! I wish I could get another one :(