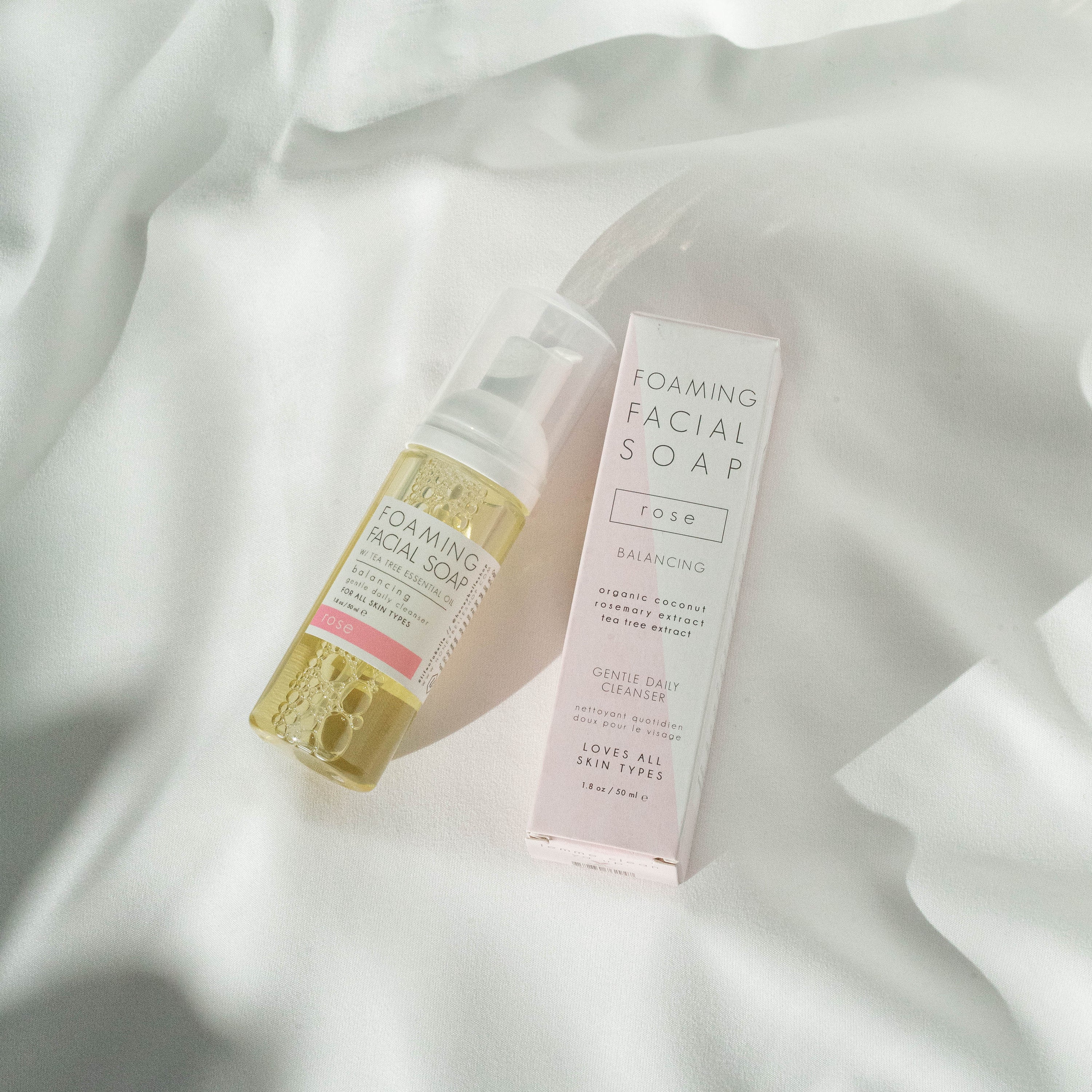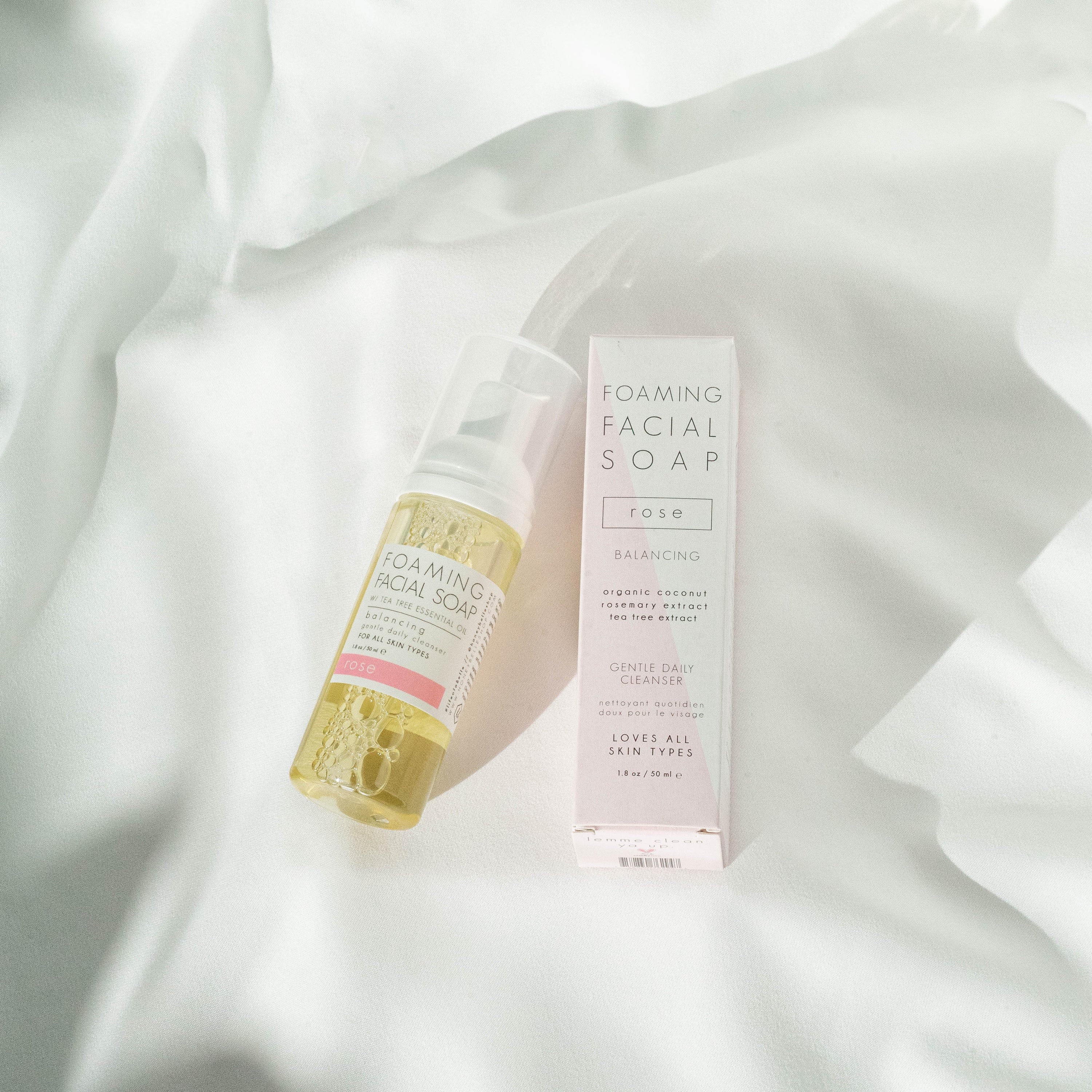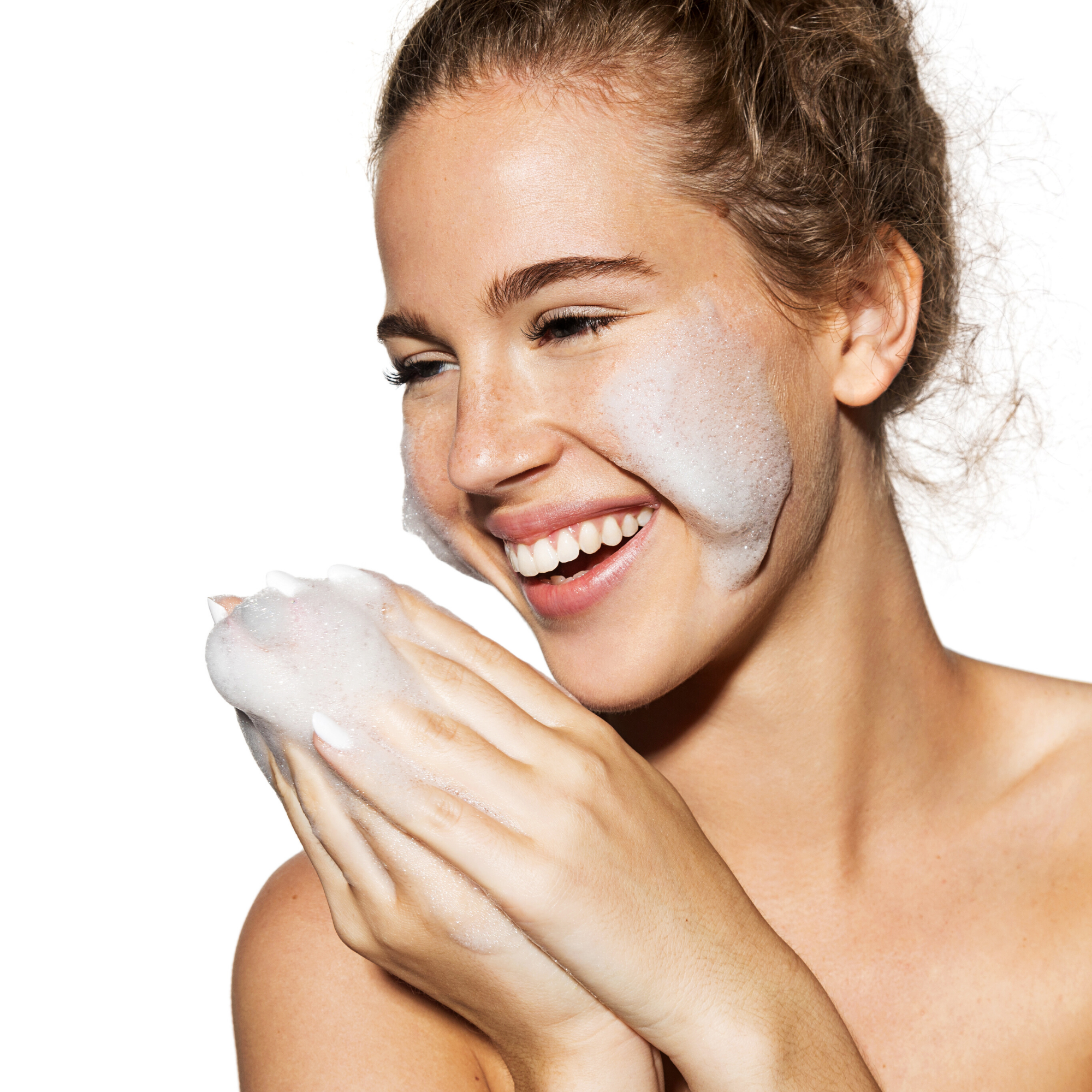 Description
A daily Foaming Facial Soap featuring natural saponified oils that:
Gently and effectively cleanses
Works to remove skin impurities
Soothes redness & acne irritation
May improve complexion
Key ingredients:
Sunflower
Safflower
Coconut
Rosemary
Who It's For
Foaming Facial Soap is formulated with gentle ingredients safe enough for all skin types, conditions, and sensitivities such as (and not limited to):

- Balanced ("Normal") skin
- Dry skin
- Oily skin
- Combination skin
- Eczema
- Psoriasis
How To Use
Step 1: Squeeze 1-2 pumps of Foaming Facial Soap into the fingers or palm of your hand.

Step 2: Gently massage and lather in upwards & circular motions - gravity weighs our skin down with time, so massaging upwards can help offset that!

Step 3: Rinse with water and pat dry.

Step 4: Finish your routine as normal with Facial Tonic and Elixir Facial Oil. If doing a complete spa-day routine, follow Foaming Facial Soap with: Facial Scrub, DIY Detox Mask, Flora Rosewater Toner, Elixir Facial Oil, Relief Serum (cleanse, exfoliate, detox, tone, moisturize, treat).



Belle Tip:
Use warm water when lathering to open up your pores for that deep cleanse, and follow with cool water to close up your pores when rinsing.
Full Ingredients
Made with a balanced blend of natural and organic saponified oils, Foaming Facial Soap is super gentle yet effective for all skin types and conditions. There are no parabens and no sulfates - only the good stuff.

Saponified Oils of Carthamus Tinctorius* (Safflower), Helianthus* (Sunflower), Cocos Nucifera* (Coconut); Vegetable Glycerin, Rosmarinus Officinalis (Rosemary) Extract, Melaluca (Tea Tree) Essential Oil, Extract, Essential Oil Blend, Love

*Organic ingredients
Recycle Information
Step 1: Toss carton in the recycling bin.

Step 2: Remove all labels and rinse the empty container with soap and water and pat or air dry.

Step 3: Place container in recycle bin (you'll have to look up recycling criteria in your country) .

Step 4: Place foaming pump in trash - we are currently sourcing an eco-friendly/recyclable option.



Belle Tip:
Once your container is cleaned, re-use it! We've seen Belle's refill it with their fave foaming hand soap liquid or use your empty container to hold other products (travel friendly!), jewelry, re-purpose as a mini planter, and more.
FAQ's
1. How often should I use Foaming Facial Soap?
You can use Foaming Facial Soap daily for your morning and evening cleanse.
2. Is this product gentle enough to use on sensitive skin?
Yes! Our Foaming Facial Soaps are made with natural saponified oils and tea tree making it gentle and effective for all skin types and conditions. For highly sensitive skin, test on a small area first.
3. Is this product ok to use if I have a skin condition?
Yes! This product doesn't contain any harmful additives. It's important to use a gentle cleanser ESPECIALLY if you have a skin condition, to keep your skin healthy and radiant. This will help cleanse and soothe your skin.
4. Why should I use Foaming Facial Soap? How is it better than other facial cleaners?
Most commercial cleansers use harsher chemical ingredients that dry out the skin. This leads to the skin producing extra oils in an effort to balance the dry skin. This then causes excess oil build-up clogging your pores causing ance.

Our Foaming Facial Soaps are made with natural and organic oils and extracts which are traditionally used to relieve skin irritations, acne, improve skin complexion, and even soothe flare ups from skin conditions caused by eczema and psoriasis.
Foaming facial soap
Love love this face wash! It doesn't dry out my skin. Have been using Honeybelle since 2016 and won't use anything else on my face!
Love this!!!
Best face wash I have ever used!!
Love it!
I've been using this soap for years. It works really well and doesn't dry out my skin. Definitely the best face wash I've ever used.
Foaming facial cleaner
I've enjoyed this cleanser for over a year now. My skin has improved along with the acne serum.
Squeaky clean
I really like the way this makes my face feel clean but not dry. I gave a bottle to a friend.
never received
Order was never received sent a separate email to find order
Nice Face Soap
I really like the foaming facial soap. Nice size and it really makes my face feel clean after washing.
Lemongrass is my all-time fave
The lemongrass foaming facial soap has been my go-to facewash for years now. I love the refreshing scent! And as someone who used to have bad acne as a teenager, it has helped keep my skin mostly breakout free through the years.
Fresh?
I got the Lemongrass. It smells stale. The consistency is nice.
The best!
I love this foaming face wash! I can't stand using anything else. It has really helped in clearing my acne and making my face feel fresh!