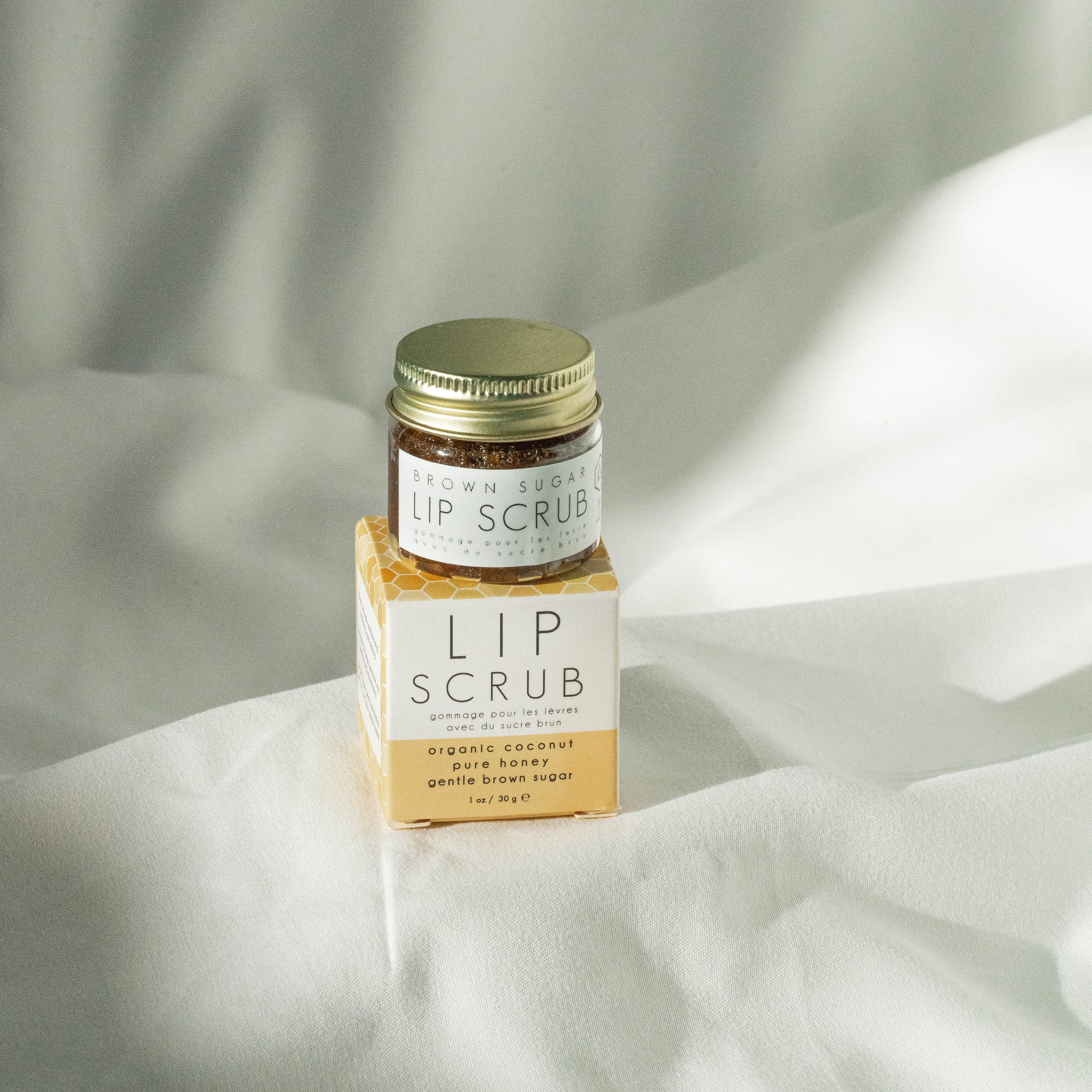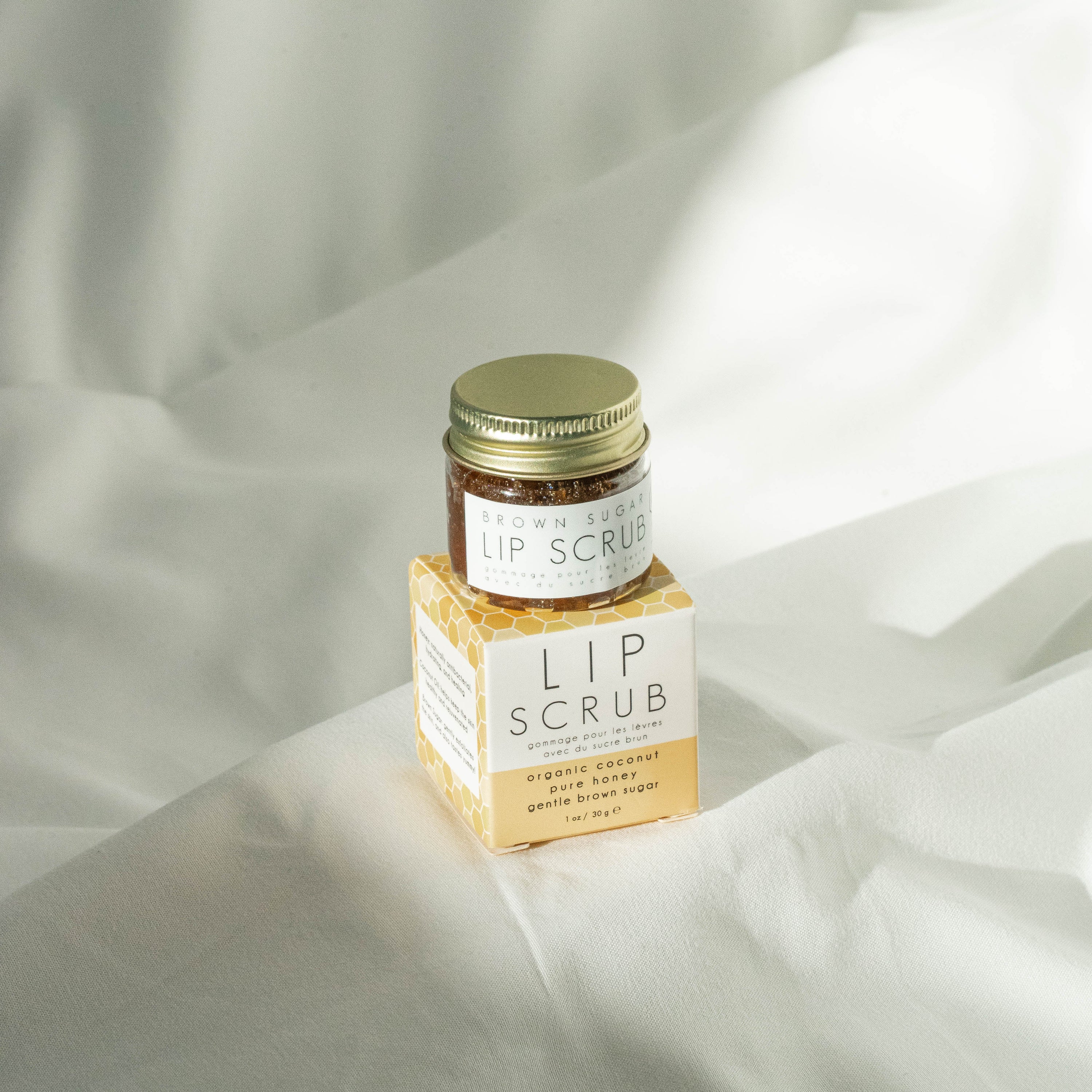 Description
Gently scrub away dead/peeling skin on your lips with the perfect natural exfoliant, brown sugar. Use Lip Scrub to:


Gently exfoliate lips

Make lips soft and supple

Help seal in moisture
Who It's For
These products were formulated with gentle ingredients safe enough for all skin types, conditions, and sensitivities.
How To Use
Step 1: Take a pea-sized amount of Lip Scrub and gently rub onto lips in circular motions.

Step 2: Wipe away with a damp washcloth or rinse with warm water.

Step 3: Apply Lip Balm after to schieve soft, moisturized, and kissable lips,

Belle Tip:
Please keep away from direct heat or sunlight.

Full Ingredients
Pure Brown Cane Sugar, Cocos Nucifera* (Coconut Oil, Cold-Pressed), Pure Honey, Glyercol* (Vegetable Glyceirn), Tocopherol (Vitamin E), Love

*Organic ingredients
Recycle Information
Step 1: Toss carton in the recycling bin.

Step 2: Remove all labels and rinse the empty container with soap and water and pat or air dry.

Step 3: Place container in recycle bin (you'll have to look up recycling criteria in your country).

Step 4: Place cap in the trash bin - we are currently sourcing an eco-friendly/recyclable option.


Belle Tip:
Once your container is cleaned, re-use it! Re-use your empty container to hold other products (travel friendly!), jewelry, re-purpose as a mini planter, and more.
FAQ's
1. Oops - I accidentally licked some sugar off my lips and swallowed it. Is that ok?
Yes! All ingredients in our Lip Scrub are edible - so stealing a little taste is a-ok).

(However, we do not recommend eating Lip Scrub as a part of your diet)
2. What do the ingredients do?
Honey is a humectant, a substance that retains and preserves moisture. Organic & Cold-Pressed Coconut Oil moisturizes the new skin and keeps them supple! Ingredients are all edible, so feel free to lick it off after a nice clean scrub!
Can't live without this!
I live in Vegas where it's very dry and my lips are always chapped. I use this scrub every morning to exfoliate before putting anything on my lips!
MANY THANK'S for Your Treat♡
I first discovered your lip scrub which at first glance appeared old & dry however MUCH to my delight THE OIL's & YUMMINESS came through ! Moved on to The Loofah Soap...These to I LOVED~What A brilliant idea & I can hardly get out of The Shower🥰 I was deeply saddened when you were out of the face scrub you promptly refunded my money 🤝 THEN I Soon was surprised with A jar of the face scrub & A LOVELY HAND WRITTEN NOTE & at NO CHARGE ! Of Course You're face scrub was also PHENOMENAL ! Not drying at all & after only ONE use I got many compliments about my skin (do I tell?)
CAN I SAY MORE?
Best Customer Service &
Product's 💖
THANK YOU 💋
Scrub me tender
I've come back twice for the loofah soap (Charcoal Bamboo - such a fresh and unassuming scent). I use the Foaming Cleanser daily - the scent is a little soapy but very clean and satisfying. The Facial Scrub (Coffee) is amazing and leaves my skin feeling plump and pretty. A great business I'm happy to support.
Back for More!
3rd time now back at Honey Belle! The lip scrub is so nice. It sloughs off the dry skin on my lips from our dry winters and moisturizes as well. Gentle and pleasant. I'm hooked! My favorite is the soap loofah! I have bought many as gifts! You know when you find a gem you want to share it! I love this company and their products! 💝
LOVE
I love the coffee facial scrub! The smell is invigorating. I typically use it in the morning a few times a week and it feels great on my skin.
Green Tea Matcha Facial Scrub
Skincare
Really love this products my skin feels so much better and glowing I love matcha scrub it's exfoliate my skin, and my skin feels calm irritated!
I thought it was coming with a little spoon to easily get the granules you needed.
My jar was only 3/4 full if you want me to candid and honest. Coffee smell delicious, gritty cleanliness, then facial smoothness!
Favorite scrub I've tried!
First scrub I've had that not only exfoliates but also doesn't strip my skin but instead leaves it moisturized! Can't wait to try other products!
Amazing product!
I love that it wakes me up and makes by skin feel amazingly soft