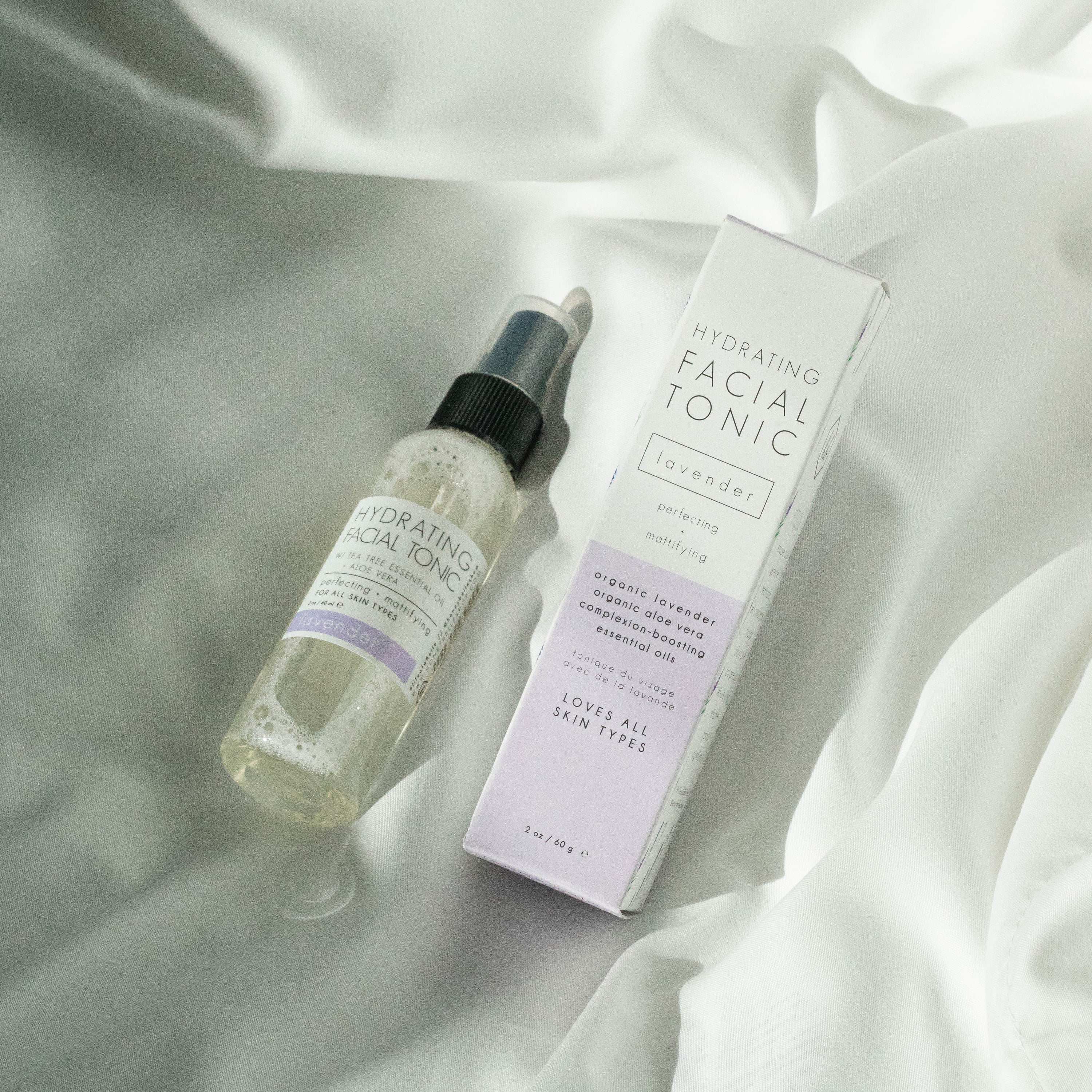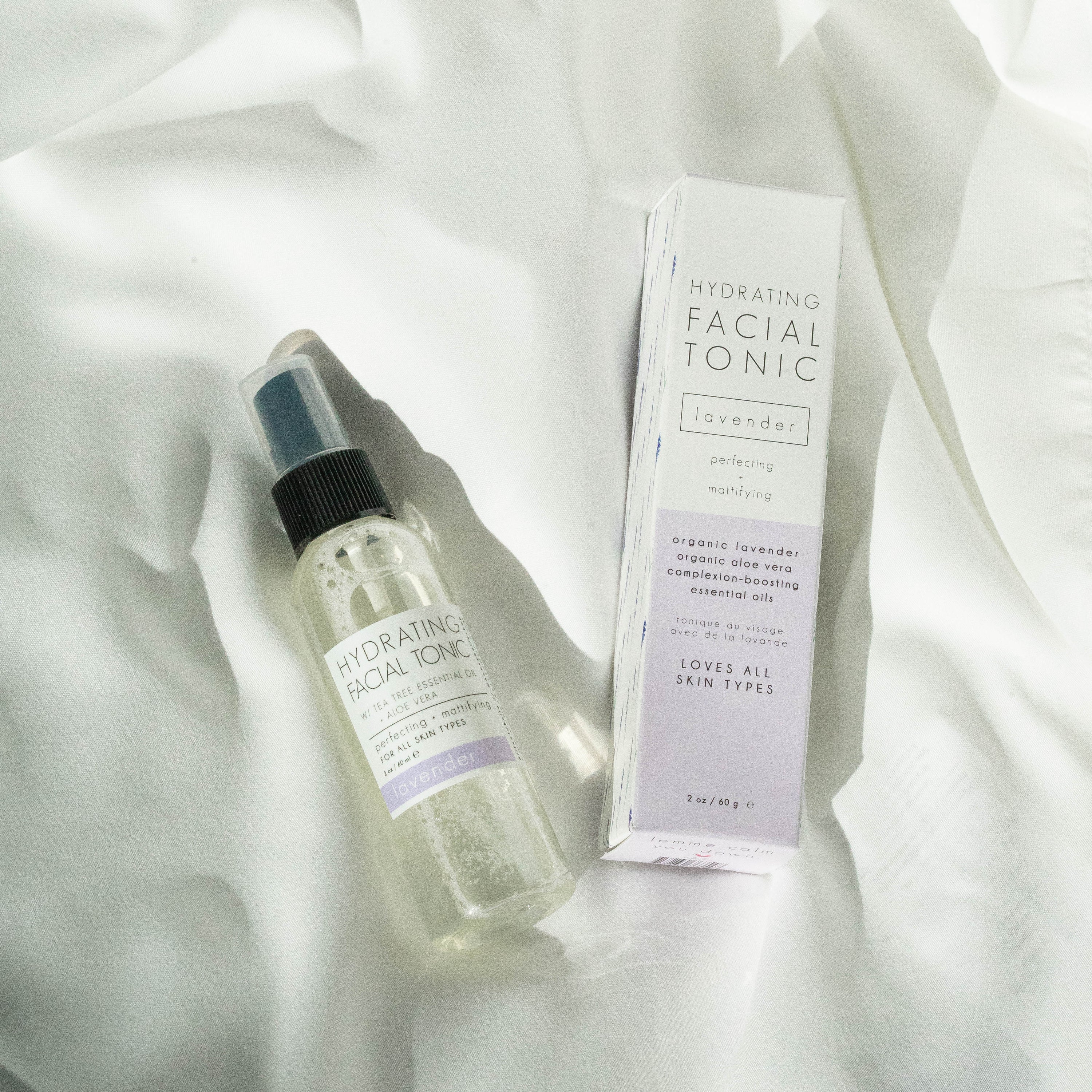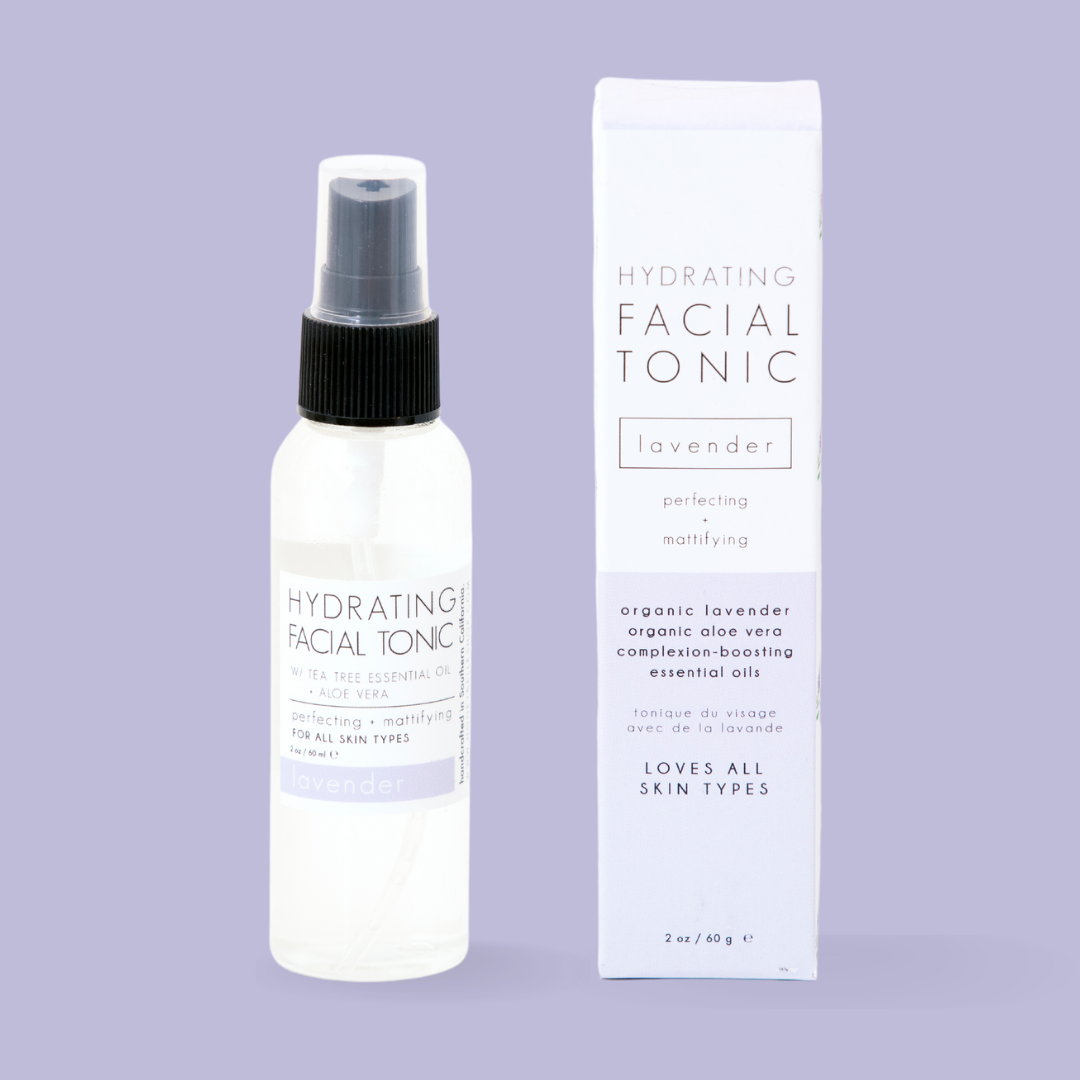 Description
Hydrating Facial Tonic featuring lavender, eucalyptus, tea tree, and aloe that:


 Helps to deliver hydration and encourages dewy skin

 Helps to minimize the look of pores and uneven skin

 Helps to soothe redness from irritation

 Has astringent properties to increase the elasticity of the skin

Key ingredients:

 Lavender

 Eucalyptus

 Tea Tree

 Aloe Vera
Who It's For
Hydrating Facial Tonic is formulated with gentle ingredients safe enough for all skin types, conditions, and sensitivities such as (and not limited to):

- Balanced ("Normal") skin
- Dry skin
- Oily skin
- Combination skin
- Eczema
- Psoriasis
How To Use
Step 1: Gently shake your Hydrating Facial Tonic to incoporate settled ingredients (separation is normal!)

Step 2: Hold your spray about half an arms length away from your face.

Step 3: Close your eyes and use 1-3 spritz all over your face and neck.

Belle Tips:
- Use Hydrating Facial Tonic immediately after you've cleansed.
- You can also use this spray for a mid-day pick-me-up! (f you're wearing makeup, let it air dry to prevent smearing!)
- Spritzing throughout the day will help decrease dullness and excess oil.
Full Ingredients
Aqua Lavandula* (Lavender Flower Distillate), Aloe Barbadensis* (Aloe Leaf Juice), Hamamelis (Witch Hazel Extract); Essential Oils of Lavendula (Lavender), Eucalyptus Globulus (Eucalyptus), Melaluca (Tea Tree), Love

*Organic ingredients
Recycle Information
Step 1: Toss carton in the recycling bin.

Step 2: Remove all labels and rinse the empty container with soap and water and pat or air dry.

Step 3: Place glass container in recycle bin (you'll have to look up recycling criteria in your country).

Step 4: Place dropper in the trash bin - we are currently sourcing an eco-friendly/recyclable option.

Belle Tip:
Once your container is cleaned, re-use it! We've seen Belle's refill it with other liquids that require droppers or even use our standard sized Elixir as a refiller! You can also also use your empty container to hold other (now travel friendly) products, jewelry, and our fave is seeing them re-purposed as a mini planter or flower vase, and more. "
FAQ's
1. Is this product gentle enough to use on sensitive skin?
Yes! Hydrating Facial Tonic is made with lavender, aloe water, and witch hazel making it gentle and effective for all skin types and conditions. For highly sensitive skin, test on a small area first.
2. Is this product ok to use if I have a skin condition?
Yes! This product doesn't contain any harmful additives or fragrances.
3. What does a toner do?
When do I use this product in my skincare routine? A toner preps your skin for a moisturizer by making sure the skin and pores are clean and ready to lock in moisture. A good base routine we like to follow is: cleanse, tone, moisturize. So Hydrating Facial Tonic would be best as step 2 in your routine following your cleanse. For our multi-step-really-treat-yo-self kinda days, we like to follow: cleanse, exfoliate, detox (mask), tone, moisturize, and serums. In this case, Hydrating Facial Tonic would be step 4 in your routine following your cleanse, exfoliation, and detox.
4. How often can I use Hydrating Facial Tonic?
You can use Hydrating Facial Tonic daily for your morning and evening routines. You can even use Hydratng Facial Tonic as a mid-day pick-me-up (it's perfect for those hot summer days!).
Hydrating facial tonic
I like this tonic on my skin after I wash my face with the Rosewater foaming facial wash. It feels clean; refreshed. My skin has improved amazingly over the past year I have been using the Honeybelle system. Thank You for your incredible natural products.
I LOVE Honey Belle!
So I just want to mention firstly that I am OBSESSED with your products! The coffee scrub is my favorite and I just got the matcha mask that I love too. I tell all my friends and my sister is obsessed too. My honest feedback for the facial mist is that I like how it feels but I'm not a big fan of the smell. I'll definitely be trying more products over time as I love supporting an LA-based business. Keep doing what you're doing! 🙏🙏 Emily
Great on skin but strange smell
Honest reviews are important so here goes! I was so excited to try out this spray because I love lavender and tea tree....but this does not smell like that AT ALL. I sprayed it on my face and my boyfriend walked in and we both looked at each other like 'what is that smell'? We finally determined what it smells like... you know when you're going down a steep hill and someone's car's breaks start to burn... that is what it smells like. Burning car breaks. That being said, it's not overpowering so I actually plan to keep using it because it really makes my skin feel great! Its hydrating, yet mattifying, and therefore my pores are less noticeable. So just know you'll get an awesome product but with a strange sent!
Facial tonic
I received a bottle of the facial tonic and became obsessed with the lavender smell. I would spray it on my face every night before I went to bed. I loved it so much I wanted to stock up on it. But I was disappointed that what I received was not the same. It has a horrible "medicine smell". Same bottle -same label-just not the same spray🙁
Looks good but I like the patches
Great but looking for eye patches
Looking for those cooling eye patches
Amazing!
I really like this tonic because it smells so good and it's so refreshing on my skin. I use it everyday and definitely recommend it!
Love this facial tonic
My sensitive skin totally loves this tonic and feels good to keep it in the fridge and mist my face in a hot day. Keeps my skin hydrated! Totally recommend!
It's just hydrating enough
I'm a fan of lavender and tea tree in general. I'm not sure if it's the best match for my skin type but I love it when toners can be sprayed on. I'd love to see the difference during winter when the air feels less humid. I was using it after the Foaming Facial Soap and following with the Rosewater Toner. It pairs really well with the Rosewater Toner for me!
HOLYGRAIL TONER
I AM OBSESSED WITH THIS SPRAY. I love the smell, its SO REFRESHING and I love that the spritz bottle. I use it as a toner, and also to set my makeup or as a hydrating mist throughout the day. Favorite part of my skinroutine for sure <33333