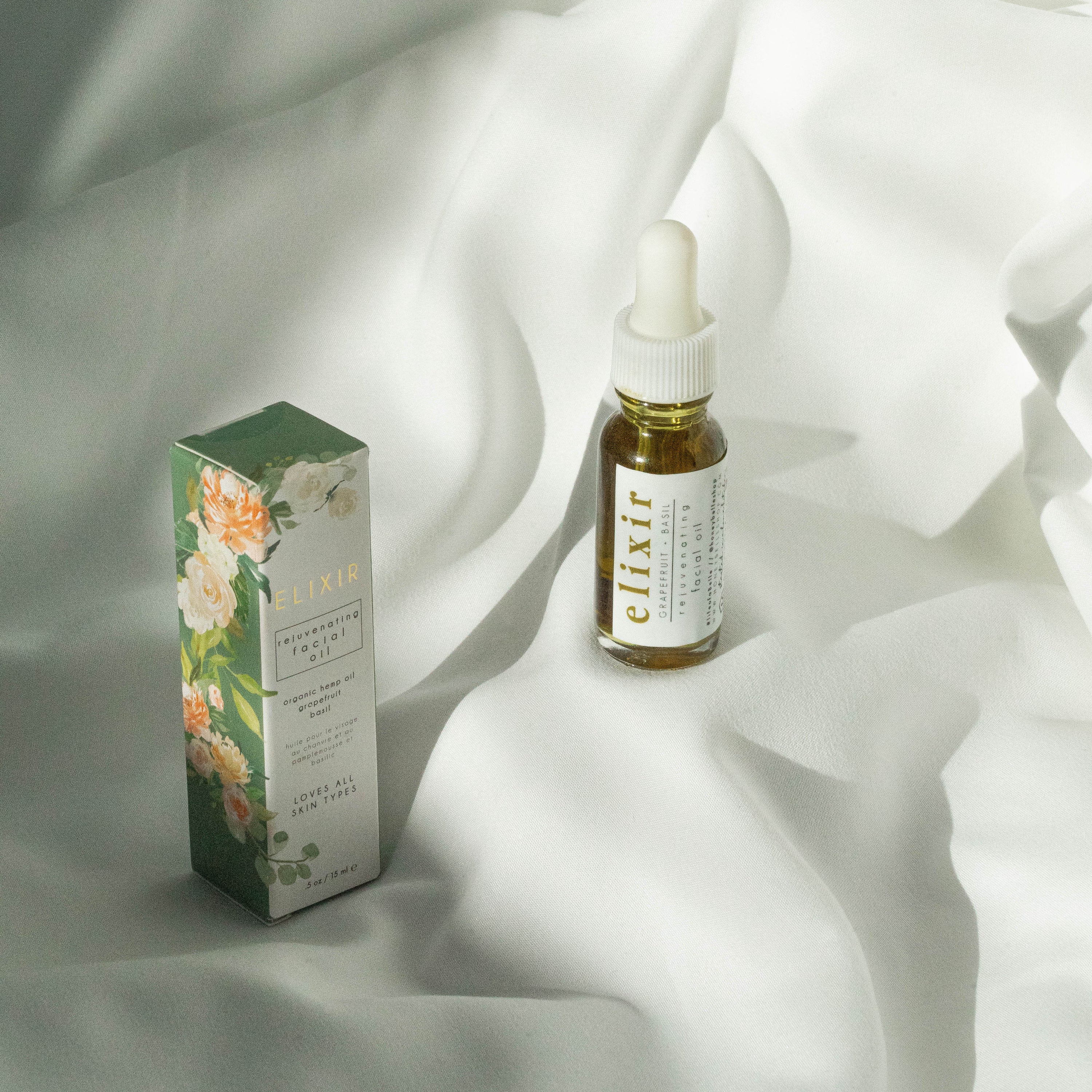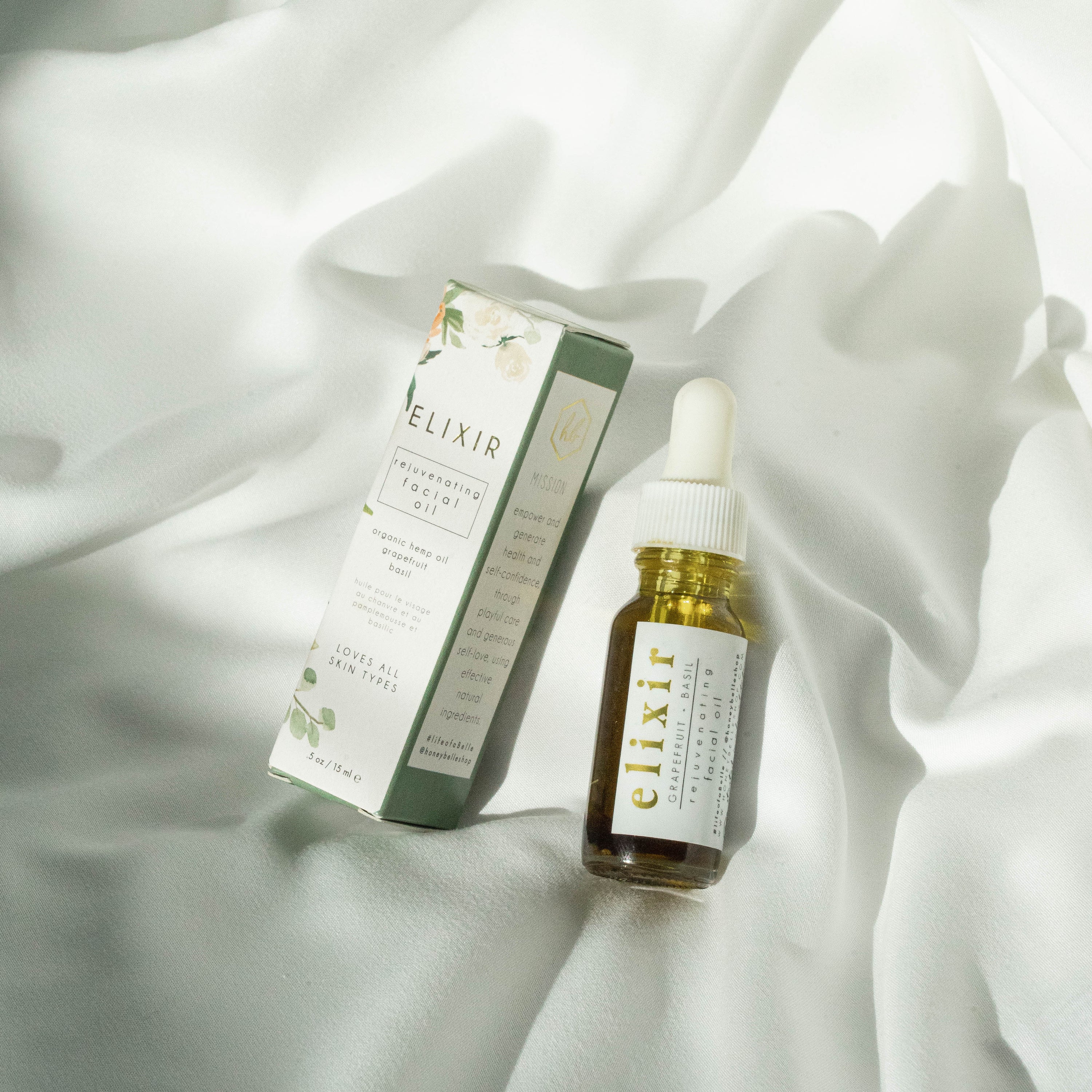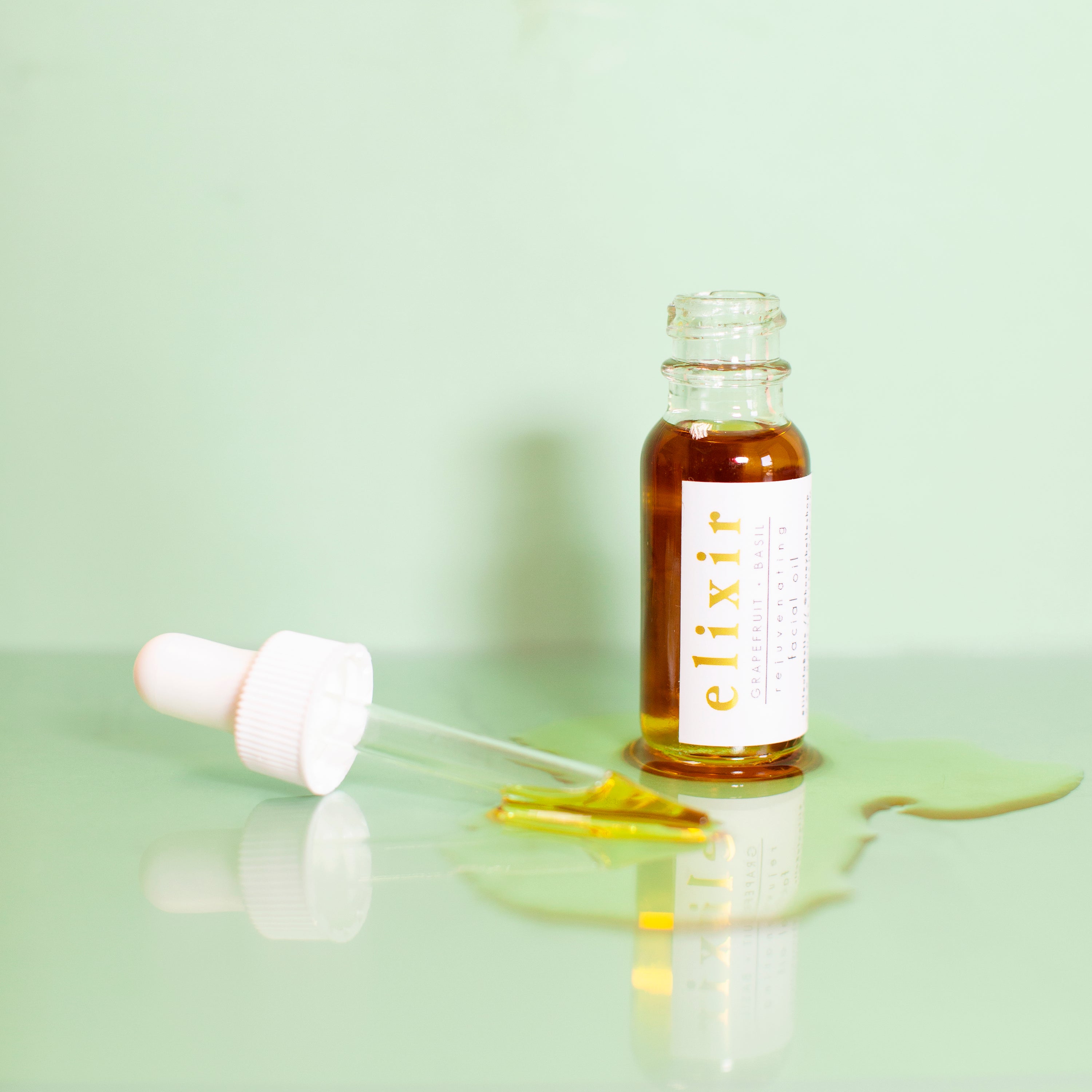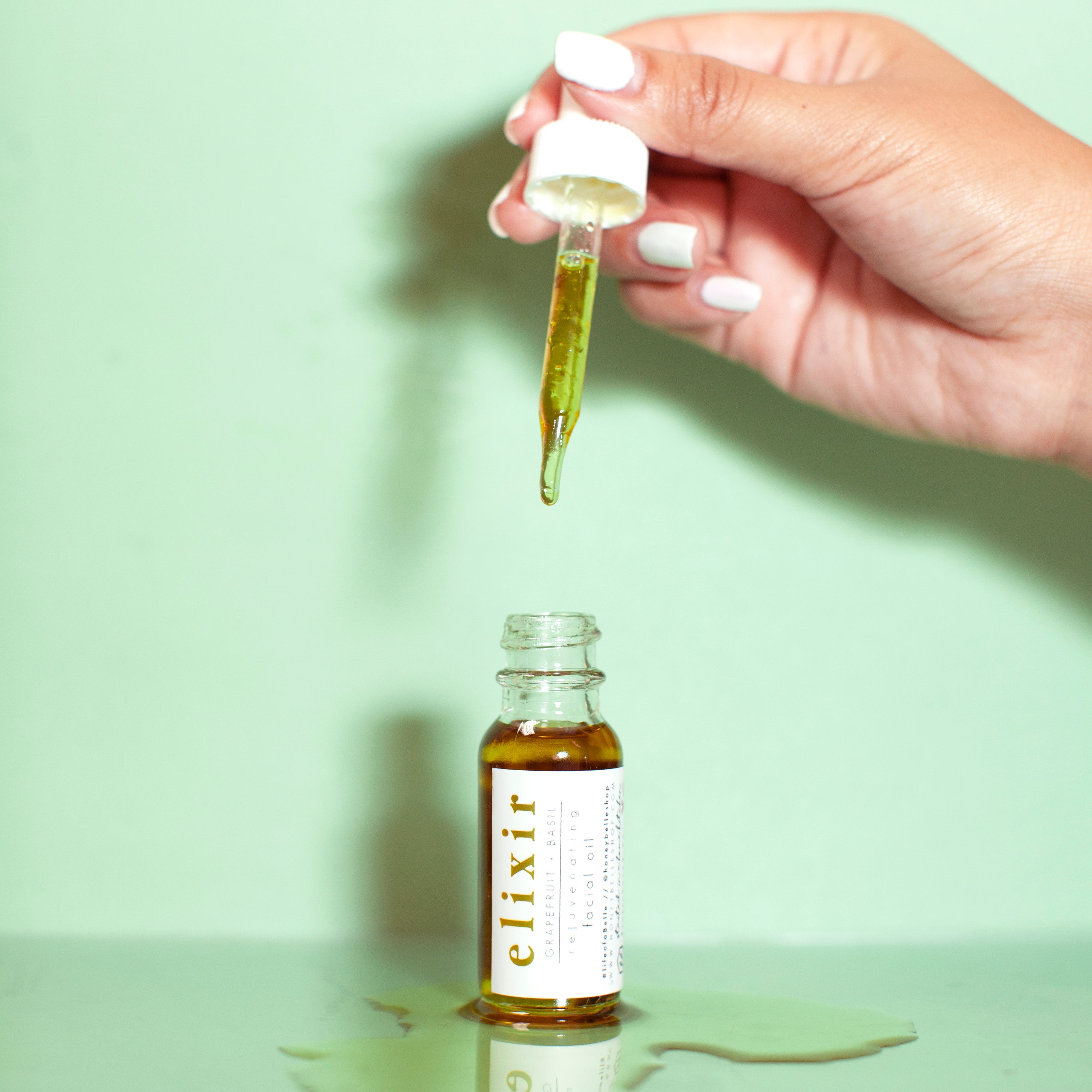 Description
Organic Facial Oil featuring organic cold-pressed hemp seed oil, grapefruit, and basil that:


 Hydrates and balances all skin types: balanced ("normal"), dry, oily, and combination skin

 Helps to even out skin complexion

 Helps to improve the appearance of skin - younger and firmer

Key ingredients:

 Hemp Seed

 Grapefruit

 Basil
Who It's For
Elixir Facial Oil is formulated with gentle ingredients safe enough for all skin types, conditions, and sensitivities such as (and not limited to):

- Balanced ("Normal") skin
- Dry skin
- Oily skin
- Combination skin
- Eczema
- Psoriasis
- Acne-prone skin
- Aging skin
How To Use
Step 1: Gently shake your Elixir Facial Oil bottle to incorporate settled ingredients.

Step 2: With clean hands, squeeze dropper and release a dime to nickel sized amount of liquid onto fingertips or cotton round.

Step 3: Gently rub in liquid all over your face and neck in upwards/circular motions.

(BONUS) Step 4: Follow up with Relief Serum to give extra love to acne scars, skin condition flare ups, or even stubborn pimples.


Belle Tips:
- Warm up Elixir Facial Oil by rubbing the oil in circular motions in the palm of your hands or fingertips for a relaxing application.

- You can use a cotton round to apply Elixir Facial Oil but we recommend you just get in there and use clean hands/fingertips.

- For extra moisture, mix in 2-3 drops of Elixir Facial Oil into your fave SPF moisturizer and apply onto cleaned and toned face and neck.
Full Ingredients
Cannabis Sativa* (Hemp Seed Oil, Cold-Pressed), Citrus Paradisi (Grapefruit Essential Oil), Ocimum Basilicum (Basil Essential Oil), Rosmarinus Officinalis (Rosemary Essential Oil), Mentha Piperita* (Peppermint Leaf), Vitamin E, Love

*Organic ingredients
Recycle Information
Step 1: Toss carton in the recycling bin.

Step 2: Remove all labels and rinse the empty container with soap and water and pat or air dry.

Step 3: Place glass container in recycle bin (you'll have to look up recycling criteria in your country).

Step 4: Place dropper in the trash bin - we are currently sourcing an eco-friendly/recyclable option.





Belle Tip:
Once your container is cleaned, re-use it! We've seen Belle's refill it with other liquids that require droppers or even use our standard sized Elixir as a refiller! You can also also use your empty container to hold other (now travel friendly) products, jewelry, and our fave is seeing them re-purposed as a mini planter or flower vase, and more.
FAQ's
1. Is this product gentle enough to use on sensitive skin? Is this product ok to use if I have a skin condition?
Yes! Elixir Facial Oil is made with organic hemp seed, grapefruit, and basil oil making it gentle and effective for all skin types and conditions. For highly sensitive skin, test on a small area first.

Yes! This product doesn't contain any harmful additives or fragrances.
2. When do I use this product in my skincare routine? How often can I use Elixir Facial Oil?
You can use Elixir Facial Oil daily for your morning and evening routines.

A good base routine we like to follow is: cleanse, tone, moisturize. So Elixir Facial Oil would be best as step 3 in your routine following your cleanse.

For our multi-step-really-treat-yo-self kinda days, we like to follow: cleanse, exfoliate, detox (mask), tone, moisturize, and serums. In this case, Elixir Facial Oil would be step 5 in your routine following your cleanse, exfoliation, detox, and tone.
3. Can I use Elixir Facial Oil on my oily skin? Will my skin feel heavy after using Elixir Facial Oil, is this normal?
Yes! Elixir Facial Oil is great for oily skin. Using an organic oil as a moisturizer helps balance oil secretion and hydration.

If you feel that your skin feels heavy, you can apply less product or pat and saturate excess oil with a clean dry towel.
4. What does organic hemp seed oil do? What does grapefruit and basil oil do?
Hemp seed oil is packed with omega 3's and 6's and is known to help minimize the look of spide veins that develop in aging/deteriorating skin.

The grapefruit and basil oil combination is traditionally used to balance oily skin. It helps to even out skin complexion and reduce the look of dull skin.
Best face oil I've ever used!
This facial oil has helped my skin so much! I used to have dry patches on my face with every other moisturizer I've used but this face oil has worked wonders for me!
Best Facial Oil!
You know when you find something you love and you can't stop talking about it and sharing?! That's me with this oil. I've noticed my acne scars disappearing along with the redness that's left behind, my skin now has a natural glow. The only complaint i have is the "standard" size is no longer available. Bring it back!
I love this product
I recently started using this oil at night and I can see blemishes and discoloration clearing up. I hope they bring back the standard size 🤞🏼
Looove this oil!
I only use this for my moisturizer after using either the foaming facial wash or luxe to "wash" my face with a scrubbing exfoliating brush. Love this combo
Review
Love it. In the high desert I need any moisture I can get.
This is awesome!
I love this cleansing oil, I've never found one that I liked till now!
Best facial cleanser EVER!!
I have been using this for years and was very skeptical at first but it is awesome for my skin. I was oily and had so many issues with other cleansers that used more chemicals. But once I started using this my skin cleared up very quickly and now doesn't feel as dry (even when I forget to put the moisturizer oil on)
Cleansing Oil
This is my 1st try with the cleansing oil, an interesting concept, but much needed for my dry combination skin type.
The best
I was running out of my original purchase of the Elixir oil and now I'm officially a happy repeat customer!
Love this stuff!
I've had a hard time finding something that my skin loves, I found my first bottle at another store but was so glad I was able to order more! My skin looks and feels better than ever!